A Gourmet Food Truck for Atlanta Events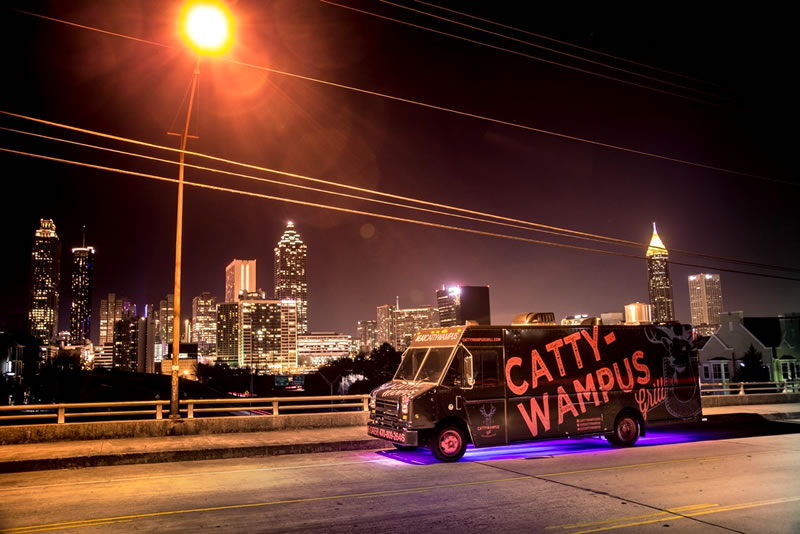 The South has always been known for its remarkably tasty culinary landscape. In an enthusiastic crusade to bring the best in lovingly prepared Southern cuisine to Atlanta and surrounding cities who also appreciate a gourmet Atlanta food truck experience, the dynamic duo of Shane and Shayla B. has slammed onto the scene with a steel-and-glass beast that roars across the entire metropolitan area. Their state of the art, modern food truck, colorfully dubbed Cattywampus Grill, rumbles and purrs its way into welcoming venues with its promise of Bold, Fresh Southern meals.
Hiding behind the neon-lettered facade of the dynamic duo's sleekly designed Atlanta food truck lies an array of gourmet ingredients that almost leap into deceptively humble Southern concoctions such as the Raised in a Barn Burger with a refreshing chipotle-cilantro mayonnaise, the pink Cluckin' Waffle with juicy fried chicken and Bless Your Heart, which pummels your taste buds with a rare mixture of three cheeses, lightly seasoned chicken and fried leeks on Texas toasted bread.
Fresh Ingredients for the Victory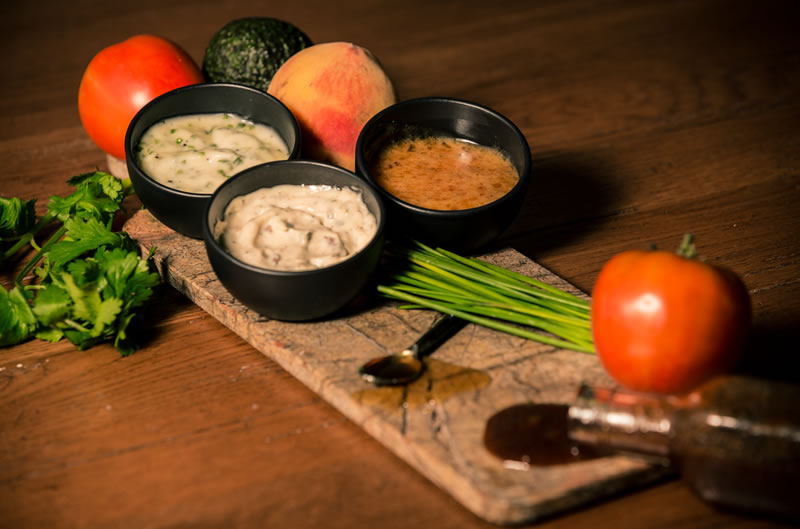 Regardless of their ambitions, main menu items invariably come with the expectation of top-flight ingredients like freshly ground beef and pork belly, eggs so fresh they cackle and other gourmet ingredients so crisp and fresh from the farm that it hurts. Tasty side items like hand-cut French fries and macaroni with three cheeses stand up and salute as you wash them down the hatch with fresh perfectly prepared lemonade or classic sweet tea.
Easy Atlanta Catering for Guests
Discerning customers who want to bring the freshest in Southern food to family members, friends and other guests can contact Shane and Shayla B. any day of the week. Company picnics, civic celebrations, joyous weddings and other significant events will see smiling faces,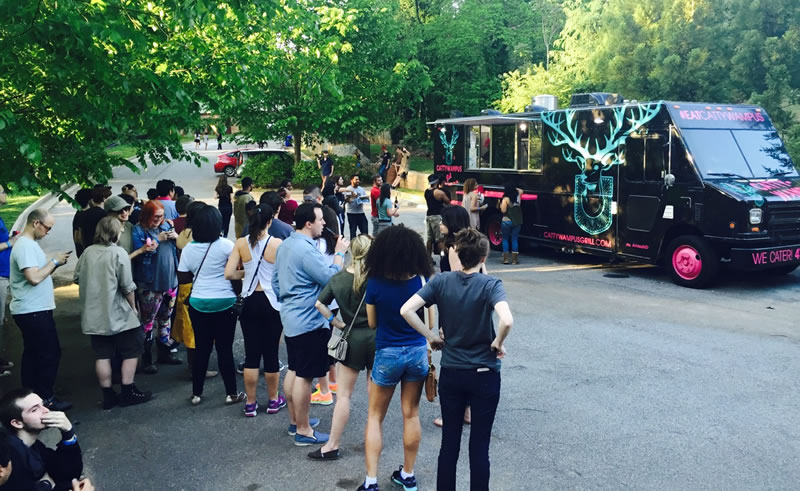 happy tummies and no dirty dishes demanding to be scrubbed afterward. It's all part of that infamous Southern charm!
The Atlanta Food Truck for You
Shane and Shayla B. aim to please customers everywhere. You might see Cattywampus Grill bouncing to the beat during the Atlanta Jazz Festival in Piedmont Park or quietly filling up hungry lunch-hour diners outside the massive Perimeter Summit building that dominates the Atlanta skyline. You might even have caught the dynamic duo paying homage to a worthy cause at the Rubber Duck Derby. No matter where Cattywampus Grill goes, the gourmet grub is hot, filling and true to the Southern tradition of good food for good folks.